After spending so much time there, we have favorites of places we want to go, things we want to see and food that we want to eat. On a trip in February 2012, we had what for us was a perfect first day in Bangkok.
After roughly 27 hours in transit, we arrived at Phranakorn Nornlen, the wonderfully quirky little Bangkok hotel (that we love) at around mid-night local time. We'd been there several times before so we knew how friendly and accommodating the staff here was but were amazed when the desk agent asked if we wanted him to go back into the kitchen and make us something to eat. We declined the offer, found our room and managed to sleep reasonably well.
After breakfast at the hotel the next morning we walked to the nearby Thewet pier on the Chao Phraya River and watched people feeding the swarming jumble of fish before boarding an Express River Boat to the Tha Ch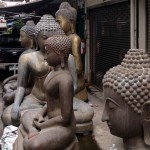 ang Pier. Rather than visit the Royal Palace, which is also at this stop, we turned left at the street and found our way to the Tha Chang Day amulet market. It's a labyrinth of parallel alleys off Maharat Road that covers ground going all the way back to the river. It is full of shops selling every kind and size of icons, amulets and statues from less than 1-inch medallions to larger than life-sized statues. After a little searching, we found the same 2 shops we had bought from in 2010 and bought a couple small bronze pieces and a few little figurines for our Spirit House back home.
After a stop at the Hotel just long enough to shower and cl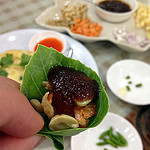 ean up we were off to Krua Apsorn, our absolute favorite restaurant in Bangkok.  As usual, we had a great, great meal there. We started with Miang Kana, a deconstructed appetizer that comes on a plate with little piles of dried shrimp, fried pork skin, peanuts, Thai chili, chopped onion, galangal, lime and tamarind sauce. To eat, wrap up any or all of the above in a green leaf and eat the whole thing with one bite.
Next were main courses beginning with the exquisite crab omelet. I have no idea how they make this omelet so fluffy but they do. Along with that, came gaeng luang lai bua; lotus stem yellow curry with shrimp and a broth made from shrimp stock. The shrimp were extremely fresh and  cooked to that translucent pink texture that seems to burst when you bite into it.
To make sure that we would get the grilled stuff chicken wings, which they often times run out of, we had asked our friend Nook Tourguide to pre-order them for us and they came next. This is one of the great dishes we've ever eaten anywhere in the world.
Right on cue, just as we were finishing the wings, Nook walked in the door with 2 British tourists in tow. It was great catching up with her and meeting her clients who seemed to share a lot of the same interest as us.
And finally dessert; On the menu this is listed as Coconut I-scream but it is actually more of a dairy free sorbet of fresh coconut juice and slivers of the meat of young coconut.
And after our sorbet, the owner stopped at our table and comped us another desert of a black bean dish that shared a similar taste and texture as black eyed peas in tapioca pudding.
We hopped a cab for the short ($1) cab ride back to the hotel where we retired for a badly needed nap.
We managed to pull ourselves out of bed in time to make our 4:00 pm massage appointment in the new massage room at Phranakorn Nornlen. With a coupon we received at check-in, total cost for 2 1-hour massages was roughly $15 and we didn't have to leave the hotel to get it.
After catching up our emails, it was time for dinner and what better place in Bangkok to go than the other restaurant that we find ourselves dreaming about when we are not there; Pud Thai Thip Sami. Some say this is the best Pud Thai in all of Bangkok. I don't know if that is true or not but it is the best I have ever eaten and it's less than a 10-minute ride from our hotel. And the entire meal including beverages was about $6 USD total for the 2 of us.
Below is a short video of a visit to Thip Samai from a previous trip.  It shows our meals, a look around the room and open kitchen, a walk past other food vendors on the street out in front of the restaurant and part of our tuk-tuk ride back to the hotel around the Democracy Monument.
If only every day could be like this!